VEON and OneWeb Partner to Deliver Seamless Communication and Digital Services
MWC, Barcelona, 1 March 2023: VEON Ltd. (NASDAQ: VEON, Euronext Amsterdam: VEON), a global digital operator that provides converged connectivity and online services, and OneWeb, the low Earth orbit (LEO) satellite communications company, announced today at the Mobile World Congress that they are partnering to provide extended mobile internet connectivity and digital services in emerging markets.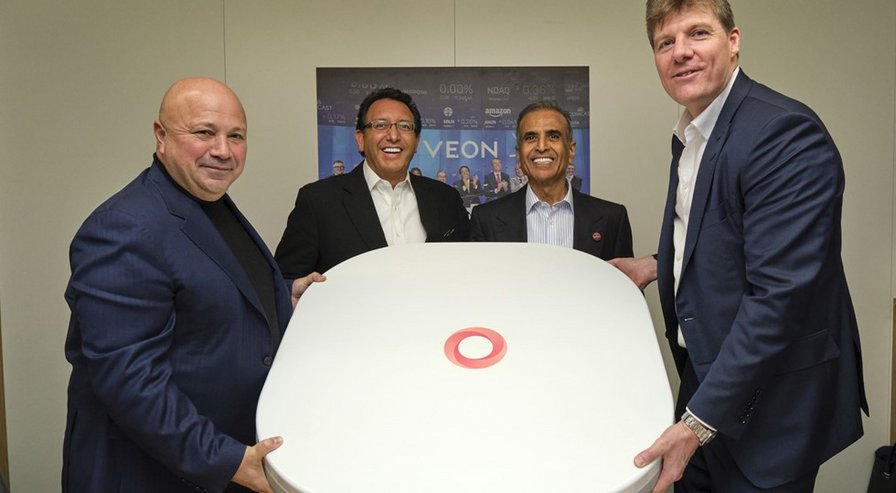 VEON Group's operating companies serve a vast geography that is home to more than 510 million people, including countries that have some of the lowest population densities in the world, uneven population distribution, internal migration patterns, rich economic resources in remote areas and disaster-prone regions. OneWeb partnership will further support VEON Group's "4G for all" and "humanitarian connectivity" focus, which has seen VEON's operating companies significantly increase their 4G coverage over the past 2 years, bridge the digital divide for millions of users, respond to disasters and unlock economic growth in their markets.
OneWeb's LEO network has substantive capabilities to deliver high-speed, low-latency connectivity to governments, businesses and communities. To-date, the business has launched 544 satellites into orbit, 80 per cent of its satellite constellation, which will deliver global coverage when completed in 2023. OneWeb's services work seamlessly with mobile communication infrastructure to enable satellite backhaul to be integrated into mobile networks. OneWeb additionally enables operators to expand 3G, 4G, LTE, and 5G networks into underserved or unconnected communities, particularly those in hard-to-reach places.
"We have always stated that our focus is '4G for all' and that mobile communication is an essential service. Our partnership with OneWeb enables us to ensure that the continuity of this essential service can be secured everywhere, providing access to seamless connectivity and digital services, supporting resilience, and enabling growth." explains Kaan Terzioglu, CEO of VEON Group. "We are excited to explore the possibilities this partnership will bring, from emergency connectivity in disaster response to enabling economic activity in remote regions, and to serving rural areas with mobile education, healthcare and financial services, complementing terrestrial connectivity."
Neil Masterson, CEO of OneWeb, added: "OneWeb and VEON have a shared mission: to expand reliable, affordable and high-speed connectivity services to the places that need it most. With this partnership we can support the development of telecoms and digital infrastructure in emerging markets, working with VEON to ensure the essential roll-out of mobile connectivity. We look forward to capitalising on the potential that this partnership has for the customers and communities we serve, while ensuring that OneWeb remains the partner of choice for telco operators globally."
About VEON
VEON is a global digital operator that currently provides converged connectivity and online services to over 200 million customers in seven dynamic markets. We are transforming people's lives, empowering individuals, creating opportunities for greater digital inclusion and driving economic growth across countries that are home to more than 8% of the world's population. Headquartered in Amsterdam, VEON is listed on NASDAQ and Euronext. For more information visit: www.veon.com.
About OneWeb
OneWeb is a global communications network powered from space, headquartered in London, enabling connectivity for governments, businesses, and communities. It is implementing a constellation of Low Earth Orbit satellites with a network of global gateway stations and a range of user terminals to provide an affordable, fast, high-bandwidth and low-latency communications service, connected to the IoT future and a pathway to 5G for everyone, everywhere. Find out more at www.oneweb.world
Disclaimer
This release contains "forward-looking statements," as the phrase is defined in Section 27A of the U.S. Securities Act of 1933, as amended, and Section 21E of the U.S. Securities Exchange Act of 1934, as amended. Forward-looking statements are not historical facts, and include statements relating to, among other things, the partnership described above. Forward-looking statements are inherently subject to risks and uncertainties, many of which VEON cannot predict with accuracy and some of which VEON might not even anticipate. The forward-looking statements contained in this release speak only as of the date of this release. VEON does not undertake to publicly update, except as required by U.S. federal securities laws, any forward-looking statement to reflect events or circumstances after such dates or to reflect the occurrence of unanticipated events. There can be no assurance that the transactions referred to above will be successfully completed or that requisite approvals for these transactions will be received. Elements of this press release contain or may contain "inside information" as defined under the Market Abuse Regulation (EU) No. 596/2014.
Contact information
USA, Latin America, Canada
Katie Dowd
kdowd@oneweb.net
FGS Global
oneweb-lon@fgsglobal.com