VEON Group Board and Management Delegation Visit Ukraine, Highlighting Commitment to the Country's Future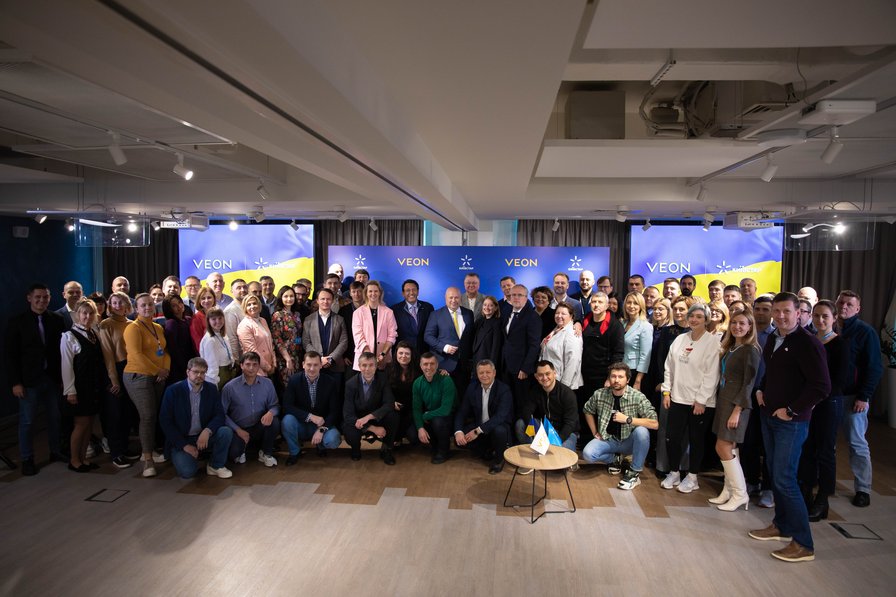 Kyiv, 23 October 2023 – VEON Ltd. (NASDAQ: VEON, Euronext Amsterdam: VEON), a global digital operator that provides converged connectivity and online services, has today sent a senior delegation to Ukraine consisting of members of the VEON Board and Management. The delegation will visit Kyiv and Lviv, meeting with Kyivstar employees, Kyivstar's community support projects, government officials and representatives of diplomatic missions.
"Kyivstar's 4000 heroes have done a tremendous job over the past 20 months keeping Ukraine connected and supporting the resilience of the country even as the war raged on. Having pledged USD 600 million to the recovery and reconstruction of Ukraine, it is our privilege to plan our future investments, which is one of the main goals of our visit. While in Kyiv, we will also address some recent concerns and demonstrate once again that VEON is not a liability but an asset for the country. We are here to stay and are committed to Ukraine. We would like our business to be understood and reflected as what it really is: an exemplary international investment success story in Ukraine." said Kaan Terzioglu, VEON Group CEO.
The delegation's visit follows VEON's announcement on 9 October 2023 that it has closed the sale of its Russia operations and completed its exit from Russia – one of the most significant corporate exits given VEON's public listing and the relative size of the asset. VEON had committed USD 600 million to Ukraine's recovery and reconstruction over the next years during the "Ukraine Recovery Conference" in London in June.
VEON is the parent company and the sole owner of Kyivstar, the largest telecoms operator in Ukraine, that serves 25 million customers and has kept Ukraine connected through extremely challenging conditions. Headquartered in Amsterdam, the Netherlands, VEON is a Nasdaq- and Euronext Amsterdam-listed company with a global investor base that includes US, EU and UK individuals and institutions, and does not have a controlling or majority shareholder. VEON recently responded to speculation on Kyivstar ownership with a statement (available here on the company website), re-asserting that it is the sole and rightful owner of Kyivstar and that it intends to use all available avenues to preserve the rights of VEON and Kyivstar.
About VEON
VEON is a digital operator that provides converged connectivity and digital services to nearly 160 million customers. Operating across six countries that are home to more than 7% of the world's population, VEON is transforming lives through technology-driven services that empower individuals and drive economic growth. Headquartered in Amsterdam, VEON is listed on NASDAQ and Euronext.
For more information visit: https://www.veon.com.
Disclaimer
This release contains "forward-looking statements," as the phrase is defined in Section 27A of the U.S. Securities Act of 1933, as amended, and Section 21E of the U.S. Securities Exchange Act of 1934, as amended. Forward-looking statements are not historical facts, and include statements relating to, among other things, VEON's strategy and investment plans. Forward-looking statements are inherently subject to risks and uncertainties, many of which VEON cannot predict with accuracy and some of which VEON might not even anticipate. The forward-looking statements contained in this release speak only as of the date of this release. VEON does not undertake to publicly update, except as required by U.S. federal securities laws, any forward-looking statement to reflect events or circumstances after such dates or to reflect the occurrence of unanticipated events.

Contact Information
VEON
Hande Asik
Group Director of Communication
pr@veon.com