Ekaterina's Story
Uzbekistan's first women's hackathon helped its winner overcome insecurities and changed people lives for better
Ekaterina Muminova, 21, has never been afraid to compete. Since childhood, Ekaterina practiced taekwondo in a male team.
At the age of 17 she received the title of Master of Sports of International class in her native Uzbekistan and was one of the two team members to earn a black belt.
Ekaterina's unique experience inspired her to get into IT.
'I was less afraid to start doing IT compared to most girls, because I was used to competing with guys. Before I physically fought with guys, and in the IT field I compete mostly with men intellectually', she explains.
Ekaterina is currently studying Information and Communication Engineering at Inha University in Tashkent. She feels quite confident being a woman in IT, although she sometimes faces gender inequality attitude.
Ekaterina recalls how once, as a first-year student, she wrote on social media that she was very tired while preparing for exams. And the male student replied: "Come on! Really! You're probably waiting for a prince in a white Lamborghini".
"But in the end my exam scores turned out to be much higher than this man's, — Ekaterina smiles. — I believe all people should be judged by their skills — regardless of gender".
When IT Park of Uzbekistan announced Tumaris.HACK — the first female hackathon in the country — Ekaterina realized that this competition would be her main challenge, but also an opportunity to grow.
"It was very personal for me. There were times when I was unsure of myself, doubted my abilities. And I was afraid to participate in any IT competition. However, I decided that I needed to get out of my comfort zone and to develop my skills further. I was tired of being afraid. I saw the announcement of the hackathon and decided that I would definitely go there".
The competition brought together 85 teams from several countries of Central Asia with VEON experts acting as mentors and speakers, sharing their experience in the field of biohacking, as well as jury members.
Real problems solver
Feeling insecure about her abilities, Ekaterina decided not to concentrate on winning. She was determined to just give it her best.
Together with two other girls — Nodira Tillayeva and Diyora Daminova — she was trying to come up with an idea for their project. However, the team was struggling for quite some time.
"We had multiple ideas, but we wanted to solve a really important problem. We didn't want to artificially invent a problem that no one needed to solve in the first place", Ekaterina explains.
"It was then that Catherine remembered her recent experience with her cat. A year ago, her cat became very ill, and for a long time no one could figure out what was happening. Eventually the cat got an abscess and ended up going through a long and painful recovery process. "If we had known in advance that something was wrong, we could have started treating her earlier."
Ekaterina proposed to make a project of a smart collar for animals, which would track the temperature of the pet's body and signal if the temperature is out of the norm.
"I thought a collar is a good idea especially for people who work full-time, rarely see their pets and can't monitor their health constantly", Ekaterina says.
Feeling confident in this idea, the team started their research, figuring out the average values of body temperature indicators for dogs of different ages. It took them at least 250 Excel lines to collect all the necessary data. 'It was difficult as we are neither biologists, nor data scientists. But we were not afraid of difficulties', she says.
Despite the challenges Ekaterina and her team managed to write a script for the collar based on the latest veterinary data publicly available. They decided to make it easy but reliable, that's why they took just one parameter. When the collar registers the abnormal body temperature, it sends a warning to the pet owner. The owner can then assess the situation and seek veterinary help if needed.
Apart from being a software developer, Ekaterina also became a project manager and a team leader. She praises her team for their efforts: "I have never had such a well-coordinated team in my life. Everything went very easily. There was no need to control the girls, everyone knew what to do. We didn't keep an eye on each other and did our part of the job perfectly.
"I was excited, but at the same time very surprised that we won, because the competitors were strong. Why did we win? I think the key was to have such a great team. But overall, the hackathon is notable for the fact that girls with very little experience could take part in it. They came to gain experience, learn and grow, and it's very cool. And I think the hackathon has helped many young women overcome their insecurities. It helped me a lot. Now I understand that I can, that I have skills and abilities. I am very grateful that both I and other girls were given the opportunity to prove themselves", she says.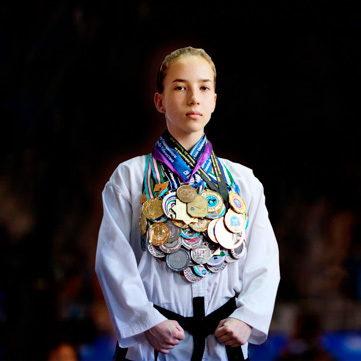 Tumaris.HACK became an opportunity for many young women who already have excellent IT skills and hope to develop them in the future. Overall, 550 applications were submitted for participation in the hackathon with the average age of the participants of 20 years.
"Beeline Uzbekistan breaks the stereotypes that there are 'male' and 'female' professions, especially in the field of IT. We provide equal opportunities for professionals regardless of gender, so we want to support girls and women not only from Uzbekistan, but also from neighbouring countries. Be more confident in yourself, and there will always be opportunities to realize your potential!" — said Andrzej Malinowski, CEO of Beeline Uzbekistan. — "Beeline Uzbekistan will follow the projects of the winners of the women's hackathon and provide further support to young women in the future. The winners will also get a chance to complete for an internship at Beeline"
Ekaterina believes that it is fine to be anxious sometimes, but she now sees a lot of advantages of stepping outside of her comfort zone. "I recommend everyone to challenge themselves and devote your time and resources to projects that could change people lives for better", she says.