Mohima's Story
Struggles, heartache, and Finally Success - the Unusual Path of a Rising Bangladesh Star
Mohima Dev Thrayee has always had a special passion for music. When she was just 4 years old her elder brother taught her how to play the harmonium, a musical instrument popular in Bangladesh. Ever since that day Thrayee dreamed of pursuing higher studies in music and becoming a professional musician.
However, this dream would become a big test for the whole family. Thrayee's father was facing financial struggles, making it almost impossible for him to pay tuition fees for both school and the music academy at the same time.
Being financially unstable, Thrayee's father faced criticism from his friends and distant relatives, who were constantly saying that it was generally a bad idea to think of sending Mohima to a music academy when money was so tight. But he wasn't ready to give up so easily.
'There is an old stereotype in our society that people of certain professions are guaranteed to have a better life. Some parents strongly encourage their kids to graduate in medicine or engineering. Being a musician - and some other job - are sometimes seen as less prestigious from the traditional point of view', - Thrayee explains.
But Thrayee's father gritted his teeth to keep his children learning and did everything he could to talk to the music academy and make Mohima's dream a reality. Much to the surprise of the whole family, the academy was delighted with the girl's abilities and ended up offering a large discount on her tuition.
Mohima's dream began to come true, but her way to the top wasn't easy.
In 2009, Thrayee house was broken into. Thieves looted money, valuable assets, and ornaments. They also destroyed musical instruments - tabla and harmonium - which both Mohima and her brother played. Thrayee's family was heartbroken.
However, once again the family united to help each other overcome this new challenge.
'My uncle repaired the harmonium that we used together with my brother. It never sounded quite the same, but we could still continue our classes', Thrayee says.
Her character was as strong as was her desire to study music and the lessons didn't stop. She continued to diligently practice, devoting all her free time to improving. And whilst she always hoped that she would succeed in becoming a first-class musician, she couldn't imagine what awaited her.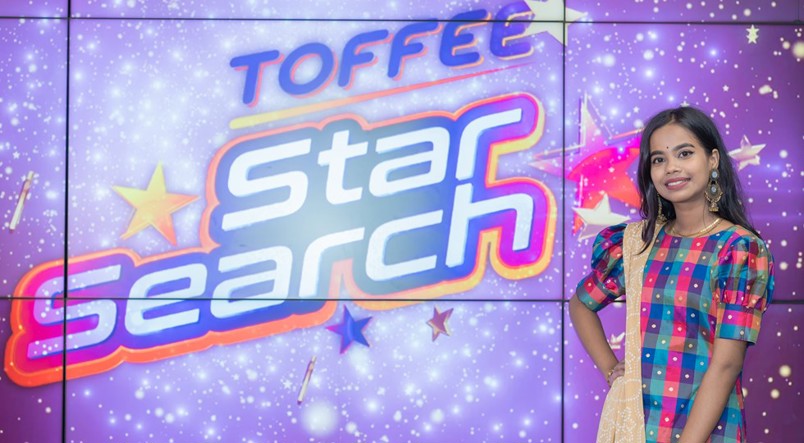 In 2021, VEON's Banglalink created the first home-grown creators' platform in Bangladesh. Until this point, people in the country had access to some international platforms and social networks, but there were no local entertainment platforms to enable User Generating Content creation.
The digital operator wanted to give people an opportunity to let their talents shine on a truly unique home-grown platform. So, Toffee was created.
A premium video streaming platform that is different from any other video streaming app in the country because its content is accessible to everyone from any network for absolutely free.
As part of the platform, Toffee launched its first talent show — Toffee Star Search. Participants were encouraged to submit their videos showing their unique abilities.
It was at this moment that Thrayee decided she would also try.
'I sent a video of my audition and was selected for the live auditions. When I stepped into the room, I saw prominent musicians and I had to perform in front of them.'
'A decade after my family was robbed, I was still playing the same harmonium. Although the sound was not perfect after the repair work, the judges seemed to be very impressed, she recalls. The jury appreciated how Thrayee managed to get the best possible of her broken harmonium because it tells a lot about her skills and dedication.
The competition was tough, but Thrayee was very excited to meet all of the top celebrities, musicians, singers, and actors that were a part of the process.
'It was a massive moment of epiphany for me. Meeting them was a big inspiration. That is how I understood that I can be an inspiration myself and choose music as my career path. And if you believe in yourself enough, it's possible to pursue that growth', Thrayee says.
After the multiple live rounds, Thrayee's dream came true. She was named the champion of the "Toffee Star Search" season 1.
'When I was announced as the winner, I couldn't believe it. It was a huge surprise for me. I was one of the youngest participants of this competition. And yet, I won!'
Thrayee now recalls that throughout her life people always reminded her that there is no career for a musician.
"I have always believed in myself. From a very young age, I never wanted to pursue a conventional career path. I wanted to be known as a musician. I'm a singer and I play music and that's my identity"
'Toffee Star Search gave me a chance to show my identity and transformed my life overnight. I finally believe that it's possible to be recognised or respected as a musician in my country and it can be a career option as well', she says.
'Toffee gave me an opportunity to be not only a traditional musician, but also a digital content creator. I'm young and this platform is amazing for my future. Now I hope to continue following my path and go to university in India to study classical music', Thrayee adds.
But first of all Thrayee is planning to buy a new instrument with her winnings.