Ziana's Story
Female entrepreneurs get helping hand with Jazz
With a population of almost 230 million people, Pakistan is the world's fifth-most populous country. However, despite this women are still financially second class citizens; the Global Wage Report 2018/19 states that women in Pakistan make an average salary that is 34% lower than men, furthermore women make up 90% of the bottom 1% of wage earners.
"If you wanted to open a bank account until about six months ago, you would need a male relative or guardian to submit the documents on your behalf. You would need proof of income, and you would need to fill out a lot of very detailed forms in order to be able to get access to a bank account," says Ziana Sakhia, CEO and co-founder of Pakistan-based online marketplace Bechlo. "Now, thanks to initiatives like Jazz Cash, women can set up digital bank accounts without needing any male counterparts or any detailed documents proving a financial status."
Ziana launched Bechlo, which translates from Urdu as "sell it", on International Women's Day, 2021, with the tagline "Created for women, by women."
Bechlo is a virtual marketplace where people can shop through Instagram and Facebook. It features a one click checkout for payments, and the platform takes care of customer service, shipping and payments for the seller.
"We're on a mission to make e-commerce easy, affordable and accessible for women across Pakistan, says Ziana, adding, "Internet access and smartphone ownership are still quite low relative to the entire population of over 220 million people, but the numbers are growing fast thanks to the efforts of operators like Jazz. Over the past three years about 25 million women have gained access to social media"
Finding inspiration
Bechlo is the culmination of what is now a 12-year career spent as an educator and entrepreneur. Ziana launched her first business, Fashioneastas.com, in 2010 as a Pakistan national, living in Kuwait. "I noticed that among the large expat community there was a demand for Pakistani culture and clothing, but supply lines were limited. I set up Fashioneastas.com for designers in Pakistan to sell their products overseas, not just into Kuwait but around the world," she says.
In 2017, Ziana set up her second e-commerce company, which was a not-for-profit social initiative called the The Green Bag Project. The idea was to create awareness about single use plastics.
"We came up with a line of reusable bags which were stitched by seamstresses in rural Pakistan," says Ziana, "The Green Bag Project exposed us to some of the issues people face in this part of the world such as unreliable (or non-existent) electricity supply or a shortage of equipment or resources. We realized that these limitations meant we could only do things on a small scale. That's when we had the idea for Bechlo. We could create a platform that would act as digital marketplace for women all over Pakistan that were making or reselling clothes."
Enabling entrepreneurship
As noted above, it can be hard for women in Pakistan to even have a bank account, but with a smartphone and Jazz Cash receiving and making payments is not an issue.
In March 2022, Bechlo was announced as the winner of the National UNDP Jazz SDG bootcamp for social enterprises in Pakistan. This bootcamp was a part of the agreement inked between UNDP and Jazz in December 2020 with an aim to promote promising social ventures that are addressing the country's developmental challenges.
So far, this bootcamp and others like it have trained, mentored, and educated 201 nationwide social enterprises, including 159 female participants. The programme comprises overall 20 bootcamps nationwide by December 2022 targeting close to 800 youngsters and 50% women participation.
Taking part and winning the National UNDP Jazz SDG bootcamp for social enterprises also provided Bechlo with an opportunity to join Youth Co:Lab: the largest youth Social Entrepreneurship movement in Asia and the Pacific along with providing access to mentorship opportunities and exclusive digital giveaways by Jazz.
Building the future
Ziana has big plans for the platform: "One of the biggest takeaways from the whole process is that it has given us belief in the project, that women-centered and women-led businesses can thrive" she says, adding, "Our aim is to digitize 100,000 female micro entrepreneurs by 2024. We want to help at least 25,000 women double their income."
Bechlo is helping women across Pakistan tap into the idea of doing business. "We're helping women who make clothing and jewelry at home and women who source their product from a wholesaler find buyers. We're even helping people who are reselling pre-loved items so they don't even need to you know how to make or source product, they can just sell what they have at home," says Ziana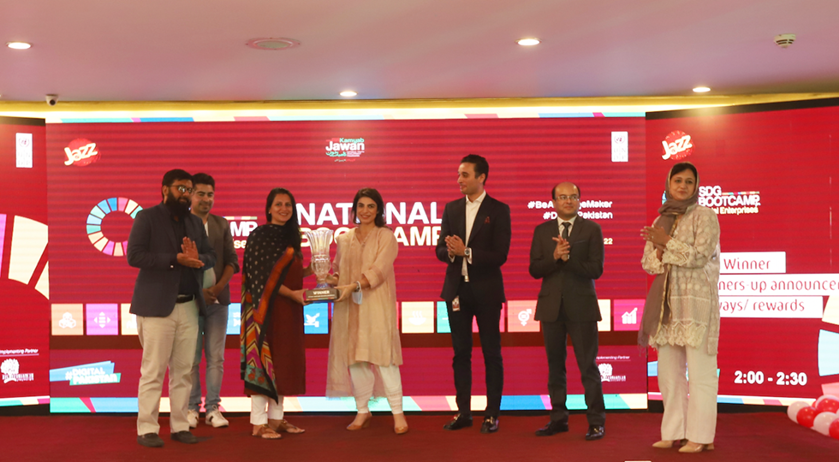 In the very short time since launch Bechlo is already making a massive difference to the lives of women in Pakistan by embracing the advantages that come with mobility and ever more affordable smartphones. According data from the GSMA, in 2018 the mobile ecosystem generated 5.4% of GDP or $17 billion in value added. This is forecasted to increase up to $24 billion in 2023 due to productivity benefits from increasing mobile internet penetration, and no doubt the enablement of social enterprises like Bechlo.